Here are a couple of essential books for people interested in the values of Matchbox cars. They also have great pictures and make for great browsing, dreaming, and drooling.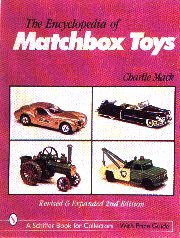 The Encyclopedia of Matchbox Toys 2nd Edition
Copyright 1997 & 1999 by Charlie Mack
ISBN: 0-7643-0866-1
US $29.95
The essential book for collectors of all things Matchbox.
Includes extremely comprehensive coverage of variations.
Click here to see all of Charlie Mack's books available from Amazon.com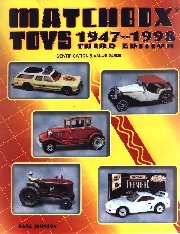 Matchbox Toys 1947 to 1998 Third Edition
Copyright 1999 by Dana Johnson
ISBN: 1-57432-115-3
US $19.95
This book focuses mainly on Matchbox cars
A less comprehensive but easier to use book.
Click here to buy this book from Amazon.com

Back to the main Matchbox Page